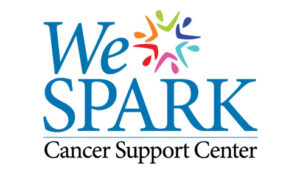 WeSPARK Cancer Support Center has been serving the community since 2001 and through COVID, that hasn't changed. They are committed to serving the already-vulnerable population of cancer patients and their loved ones by providing guidance, support, hope, and healing. Cancer diagnoses did not stop when the quarantine began.
They passionately believe that social distancing should not result in social isolation. As they provide as many counseling and therapeutic programs as possible via technology, WeSPARK guests know that they are not alone.
Learn more at wespark.org.
INTAKES/WELCOME MEETING
WeSPARK is here for you if you need them.  If you are not a current WeSPARK guest, please email them at intakes@wespark.org to schedule a brief Welcome Meeting, a required first step to access our FREE virtual programs, workshops, individual appointments and support groups.
ONLINE SUPPORT GROUPS
Please join them for limited online services for the following support groups:
Apoyo en español (Spanish Support)
Breast Cancer
Caregivers
Doing Cancer Solo
Family Grief
In Treatment
Men Cancer
Ongoing/Metastatic Cancer
Partner Grief
The Real Talk (Teen Support)
Kid's Group (for ages 4 – 12 who have a loved one with cancer or lost a loved one to cancer)
ONLINE MEDITATIVE CLASSES
Here are some online options to meditate, ease anxiety and improve wellness:
Qi Gong & Meditations with Ed Sullivan, certified InfiniChi Qigong Practitioner & Teacher
Guided Imagery with Cheryl O'Neil, C.Ht
Self-Care Techniques with Diane Hubner of Body Energizers
ONLINE MOVEMENT CLASSES
Here are some online options to keep you moving from home.
ONLINE PROGRAM VIDEOS
Please check out their Online Program Videos to experience an array of workshops and classes from the comfort of your home. Trained WeSPARK professionals, with years of experience working with oncology patients and their caregivers, guide all activities.
COMMUNITY RESOURCES
Visit their Community Resources page get information on a variety of topics including general cancer, mental health, women's resources, senior care, financial resources, and other useful links.
UPDATES ON COVID-19
Please check Updates on COVID 19 resource page for WeSPARK's updates on COVID-19 and other handy information specific to coronavirus.
WeSPARK Cancer Support Center is located at 14724 Ventura Blvd., Sherman Oaks, CA  91403. Their phone number is 818.906.3022.
Learn more at wespark.org.