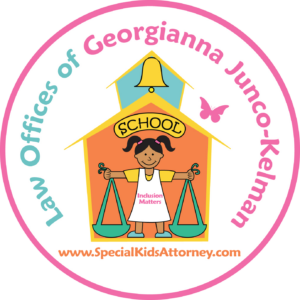 Discovering that your child has special needs can be a daunting,  frightening and disheartening experience.  Initially, you are overwhelmed by frustration and fear and you wonder how to possibly proceed as this was not the life you envisioned for you or for your child.
Learn more at specialkidsattorney.com
PHILOSOPHY
The personal philosophy of the Law Offices of Georgianna Junco-Kelman is that working in a collaborative fashion with your school district is always the best option.  They believe in the old saying, "you attract more bees with honey," and they strive for things to go smoothly at the IEP meeting via mutual compromise.
SERVICES PROVIDED
The law firm solely focuses its practice on the representation of children and their families regarding special education law.  The practice serves children with a full spectrum of minor and major needs and disabilities.
Every case is approached individually to meet the child's very specific and unique requirements. With their background and experience, they can help you to identify shortcomings where your child's rights are being neglected, overlooked or fulfilled in less than an acceptable or legally mandated manner.
The Law Offices of Georgianna Junco-Kelman represent the parents and child throughout the child's eligibility for special education resources and services.  In California, this period starts when the child turns 3 years of age and ends at the age of 22 years old.
Their practice is also dedicated to assisting families in acquiring services from the Regional Center for children ages 0 to 36 months.  They will aid you in obtaining early intervention services and with the transition from Regional Center services to the School District.
They can help you with the Individualized Education Programs (IEP), the Mediation/Informal Resolution Sessions, Due Process Proceedings, Obtaining services pursuant to Section 504 and obtaining Early Intervention/Regional Center services, IFSP: Individual Family Service Plans and IPP: Individual Program Plans.
Below is a specific list of some of the areas where they can help:
Educational Document and Case Reviews
Initial referrals
Letters to School Districts
Referrals for evaluation and services
Requesting School Records
Requesting an assessment or an IEP meeting.
Preparing for an IEP eligibility meeting or an annual review.
Advocacy at IEP meeting (parents must notify the school district prior to the meeting if they intend to bring an attorney).
Requesting, preparing for and attending Mediations.
Requesting, preparing for and representing parents at Due Process Hearings. (Office of Administrative Hearings)
Preparing a complaint for parents to file with the proper state agency.
Filing appeals and representing parents in court.
Representation at Fair Hearing Regional center process
Reimbursement requests
Compliance Complaints when the district fails to provide services
OCR Complaints when the district violates your child's civil rights
Contact (818) 386-2800 for a free consultation.
Learn more at specialkidsattorney.com.